Meet the couple changing how we think about water use in rentals
1 December 2021
Moving into the property business might seem like an unusual career move for a public health nurse. But when Jules MacKinnon's mother died a few years ago she knew this was exactly the right thing for her to do.
"Working as a nurse I saw first-hand the impact of poor-quality housing on people's health and wellbeing," says Jules.
"My mother was a rental manager and when she passed, I wanted to put my inheritance into a project that would honour her legacy while also providing people with the opportunity to rent somewhere good for their health and the planet."
The result for Jules and husband Blair, both first time property-developers, is a labour of love in Sandringham called 26 Aroha.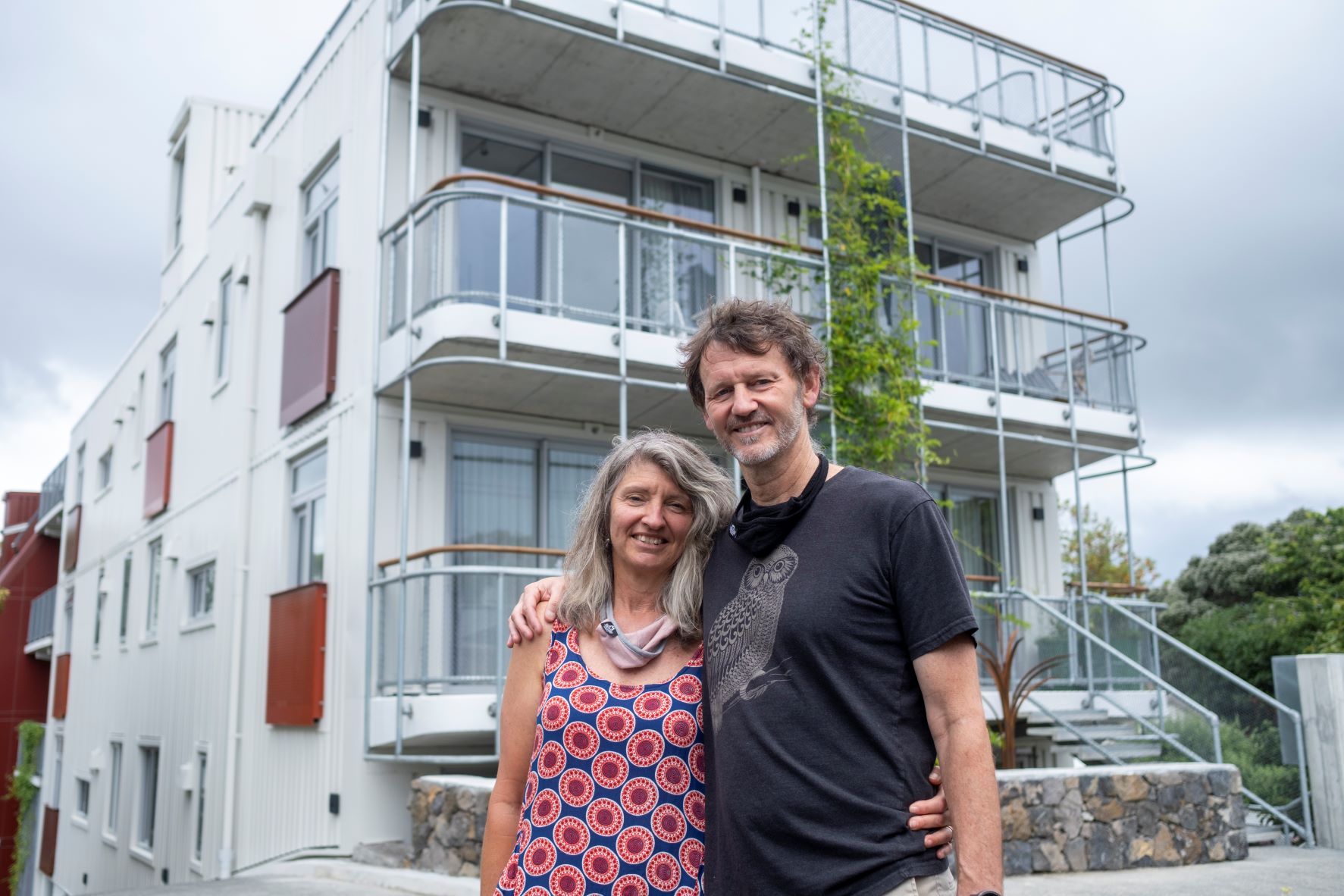 The couple have built a complex of 13 apartments that is not only beautifully designed but is also based on sustainability principles that centre water and energy efficiency alongside an overall philosophy of waste minimisation.
After almost a year with full occupancy, initial data shows this approach is paying off, with water and energy bills far below the norm.
And they're getting recognition: 26 Aroha has just been awarded an elusive 10 Homestar rating by the New Zealand Green Building Council (NZGBC), with its water efficiency practices helping score the top mark and making it one of the few complexes in the country with this exemplary, world-leading rating.
Creating a water-wise haven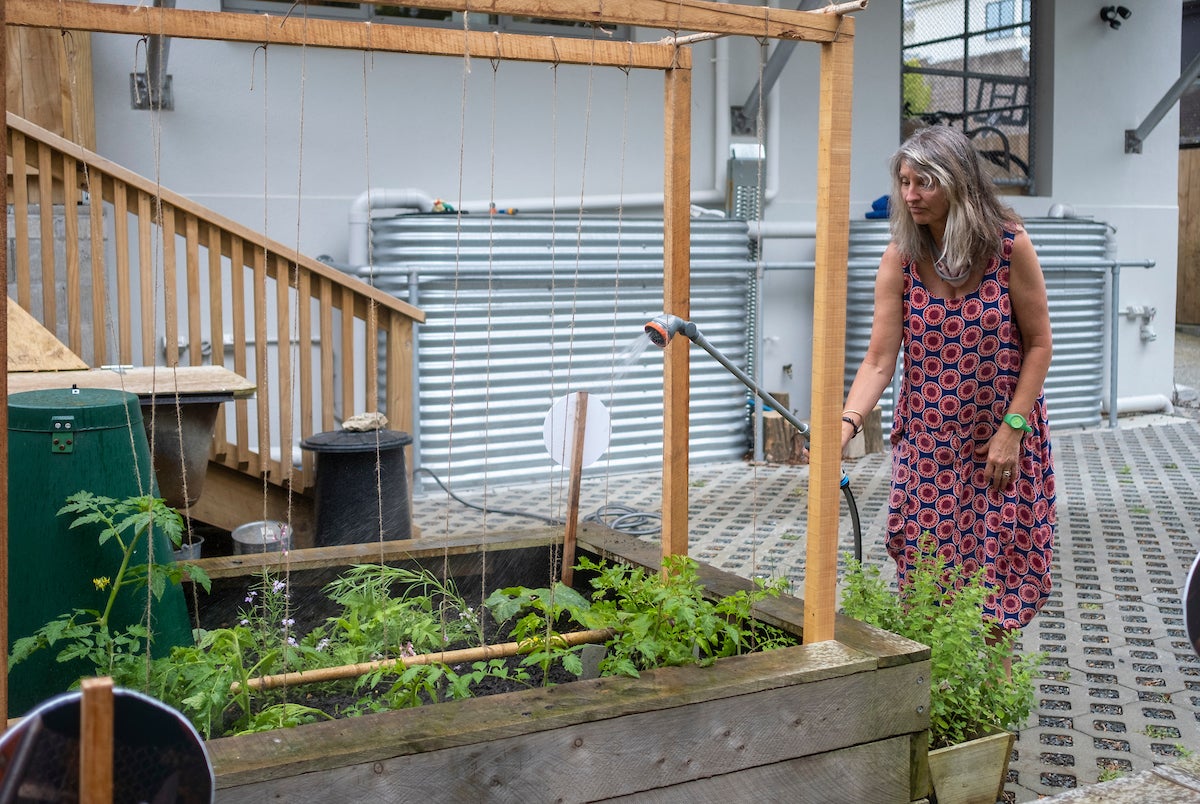 Alongside other initiatives for waste and energy efficiency, Jules and Blair have created a water-wise haven by considering everything from choosing appliances based on their efficiency ratings to installing low-flow showerheads that push air through to keep pressure high.
Rainwater tanks collect enough water off the southern block of the complex to sustain a shared vegetable garden that serves the 30 residents. A future initiative will see rainwater captured from the front of the complex too.
And there are no laundry facilities in the individual apartments.
Instead, three front-loading washing machines are shared between all residents, handily located in the common roof hub space alongside a coffee machine, reading & toys corner, BBQ, wine fridge and rooftop courtyard for everyone to enjoy.
"Having the shared washing machines brings people up to the roof top, and helps build a community too," says Jules.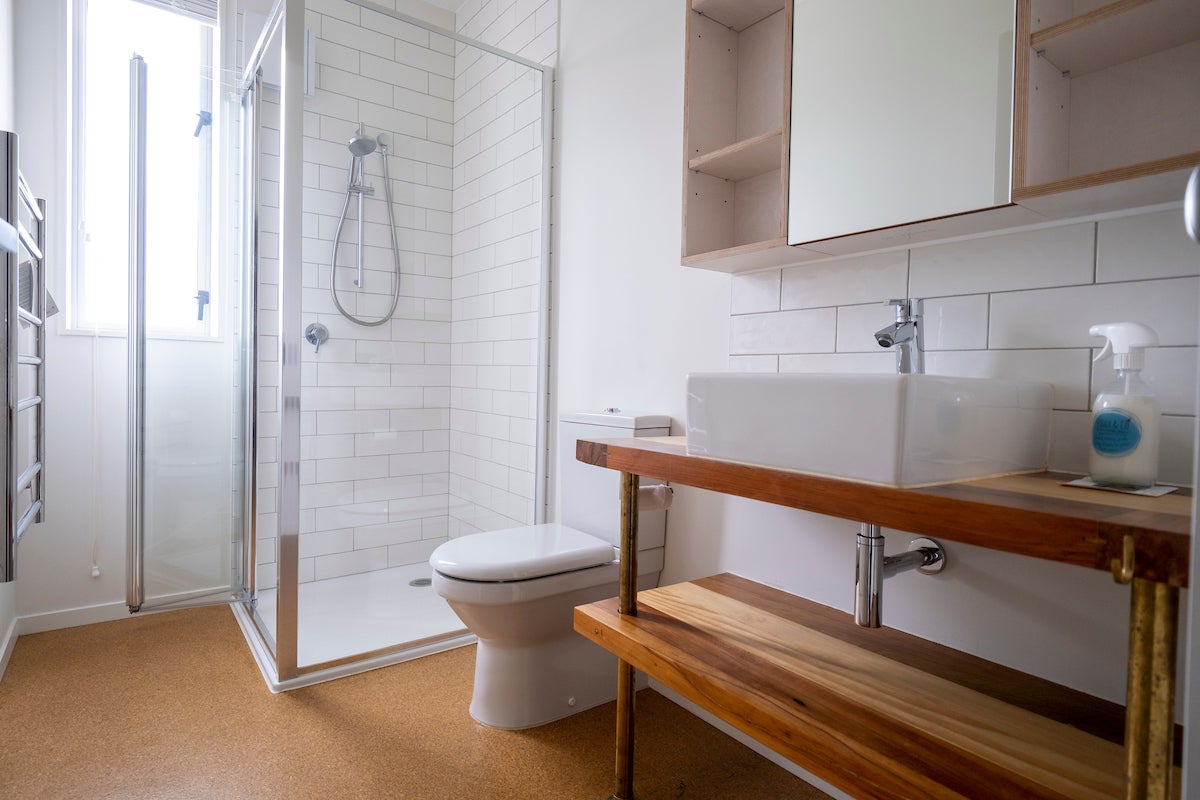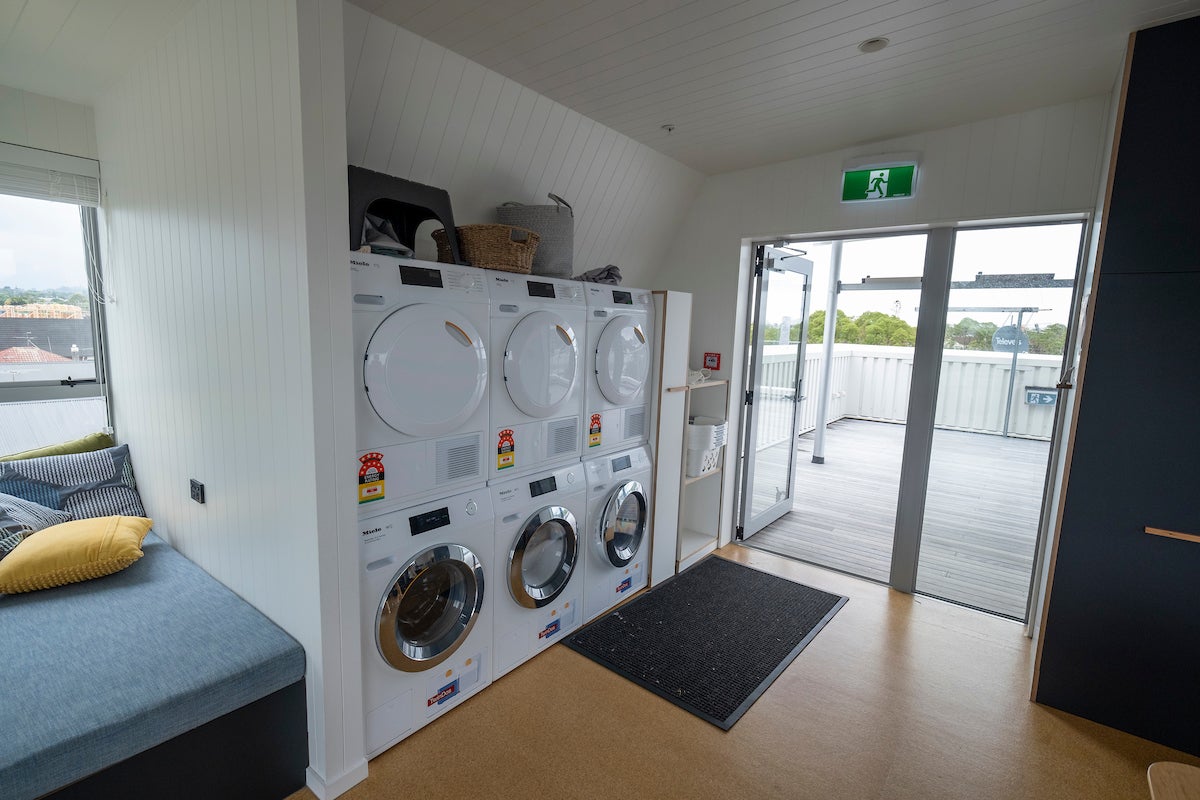 Feedback key to water efficiency
Blair, who loves number crunching, has been keeping records of water use at 26 Aroha over the year.
He's found residents here use an average of 70 litres of water per person each day – that's more than half the daily use of Aucklanders. This total is not just based on use within apartments, but also includes all the shared facilities.
The complex is set up like a commercial building; Jules and Blair pay one bill to Watercare then individual apartments are metered and charged back to them. The cost for the shared areas is split between everyone and included on individual bills.
"It's about creating a feedback loop," explains Blair. "Everyone gets that individual water bill, and we show people how they're tracking against averages across the city – so there's an incentive to keep going, the same with power and waste.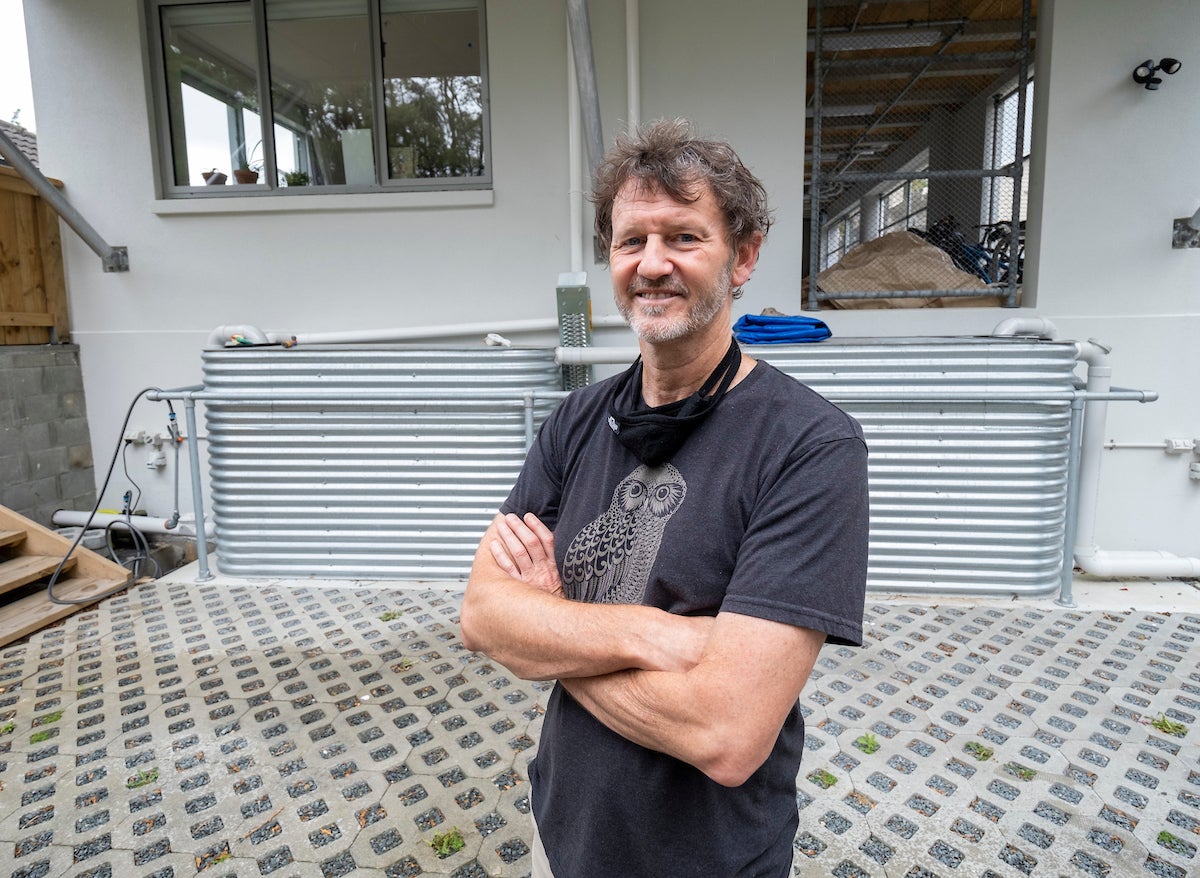 "It's about prices too; if water and waste use hits people in their pockets and they can see that impact, there's more incentive to change habits.
"It's also just reflecting that we have to carefully invest in what we're using. We're in a big city and with the recent drought we've seen there's a limited water supply – we can't keep on taking from the rivers and the environment without thought.
"Water is a precious resource, and we have to carefully manage it."
This approach is something echoed by Watercare's head of water value, Suzanne Naylor, whose role is to support Auckland transition towards a water efficient future where our shared resources go further.
"This is such a fabulous initiative and is amazing to see how making small changes to how we live can make a real difference," she says.
"Jules and Blair are absolutely right: water is a precious resource and everything we can do to be more efficient with our use of water is better for everyone."
Growing awareness for water wise homes

Andrew Eagles, chief executive of NZGBC, also agrees that water efficient homes have many benefits from health to happiness.
He's seen more homeowners and property developers like Blair and Jules become interested in building with these principles in mind.
The past few years have seen the number of Homestar registrations rocket from 400 per year to around 5000, with water efficiency a key component in the rating system.
"Awareness is growing and the drought in Auckland really triggered that – marketing from Watercare struck home with people not watering their gardens as much and using more recycled water to do so."
NZGBC is happy to see that central government has set out that water efficiency will be a key part of changes being made to building code. These change, called the Building for Climate Change, are expected to be announced in the next two years.
Although Andrew says the key thing is not to wait for the rules to change: "If you're going to build you can include water efficiency steps right now.
"What I'd say is toilets, showers and taps are 60 per cent of home water use. So, focus on those and take real steps to get more water-efficient products.
"They work and they deliver really well, and you'll face lower water bills, you'll be more resilient to climate change, droughts – and it's lower carbon." 
~
Check out more water saving tips on Water for Life.
Interested in how water-savvy your home is? Book in a free home water audit with EcoMatters Trust.
Read more stories that feature in our newsletter, NewSplash.