Our team at Watercare is working to increase the volume of water available and reduce leaks in our pipes. We're also encouraging everyone in Auckland to use water wisely and cherish this precious resource.
We are leaving no stone unturned in our quest to provide more water sources for Auckland to reduce the impact of the drought as we approach summer.

Drawing more water from the Waikato River
In August 2020, we crossed the finish line on a project to increase the volume of water we treat from the Waikato River from 150 million litres a day to 175 million litres a day.  The final stage involved us putting a new reservoir (a big concrete tank that stores water) in Runciman into service. The reservoir acts like a lobby – a place to store the water until it goes into the rest of the network – and it adds resilience to the network. It holds 50 million litres, so if we were to have a power failure at our Waikato plant, for example, we would still be able to maintain supply to our customers with the water stored in this reservoir.
While this expansion project has been underway for several years, the timing of its completion helps our drought response effort. From the outset, the Waikato Water Treatment Plant was designed to expand over time to stay ahead of population growth. When it opened in 2002, it could treat 50 million litres a day. Over the 18 years that followed, it has been upgraded six times – lifting its capacity to 175 million litres a day.
The completion of a new treatment plant increased peak capacity to 225 million litres a day by winter 2021.

Pukekohe bores
Hickey Springs Bores in Pukekohe were brought into service at the end of October 2020. A modular treatment plant built inside shipping containers is treating up to to 5MLD.

Hays Creek Dam
In February 2021, Hays Creek Dam was reconnected to the network boosting Auckland's capacity initially by six million litres a day and by up to 12 million litres a day by April 2022.

Onehunga upgrade
An upgrade of our Onehunga Water Treatment Plant, which treats water from an underground aquifer, will lift the plant's maximum capacity from 20MLD to 24MLD.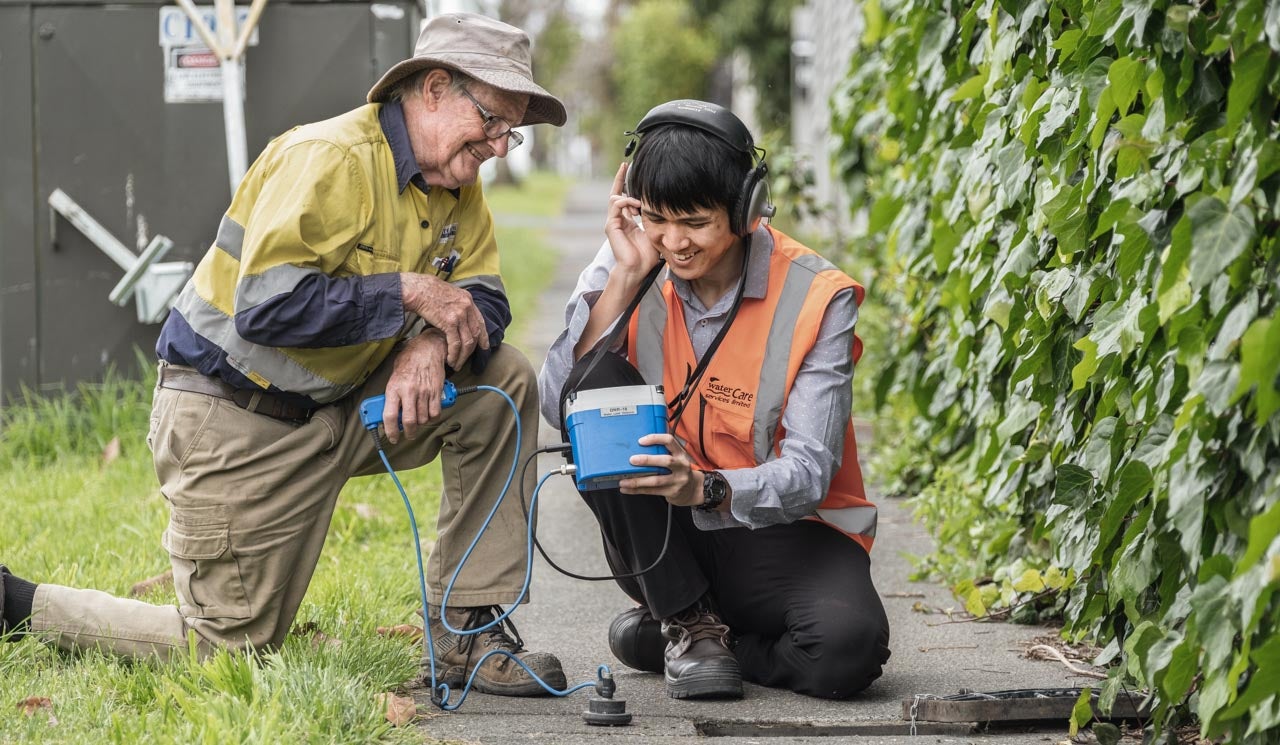 Proactive leak detection
Auckland has over 9,000 kilometres of public water pipes - that's almost equal to the distance from Auckland to Bangkok! With construction activity taking place all over the city and variable ground conditions, these pipes can be damaged from time-to-time. And sometimes the leaking water disappears underground without people seeing it.
We have a proactive leak-detection programme to find and fix these leaks. Leaks have a distinctive noise profile. Because they are constantly running, they can have a different frequency to that of normal use. An acoustic leak detection device locates leaks by differentiating leak sounds from those of normal water flow through pipes. Once a leak is detected, a crew is deployed to fix it. Check out the video below to see the team at work.
Understanding how we respond to leaks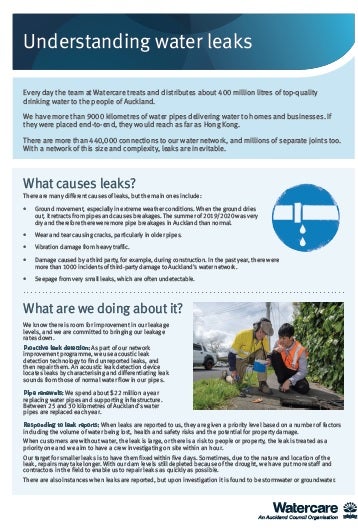 Understanding how we respond to leaks
There are more than 440,000 connections to our water network, and millions of separate joints too. With a network of this size and complexity, leaks are inevitable.
Download
We're encouraging everyone in Auckland to reduce their water use. Are you doing your bit?
We've been running campaigns to encourage everyone to be mindful of their water use. Over time, we've been upping our messaging to make sure there is widespread buy-in and understanding of the need to save water.
On 16 May 2020, Auckland Council introduced mandatory outdoor water restrictions at our request. At the same time, we set targets for our customers: to reduce their water use by 20 litres a day at home, and by 10% at work. On 23 October 2021, water restrictions were officially lifted. Over the 17 months that restrictions were in place, Aucklanders saved more than 20 billion litres of water. Thank you.
Now, we're counting on everyone continuing with the water saving habits we've all put into practice over the past 17 months. Saving water shouldn't be a chore, it should be a mentality. You don't have to save 20 litres a day, but we'd love it if you did.
If we all save a little, together we can save a lot.
#SAVE20akl
How we are future-proofing Auckland