Aucklanders love their beaches, local parks and backyards. At Watercare, we love them too. Unfortunately, from time to time, our beautiful environment is affected by overflows. However, it doesn't have to be this way.
We can all play a role in reducing overflows. We're doing our bit by expanding and upgrading the region's infrastructure and being careful in our operations. You can do your bit by being mindful of what you pour down the sink and flush down the toilet and by ensuring your property's private plumbing is correctly installed and maintained.
What causes an overflow?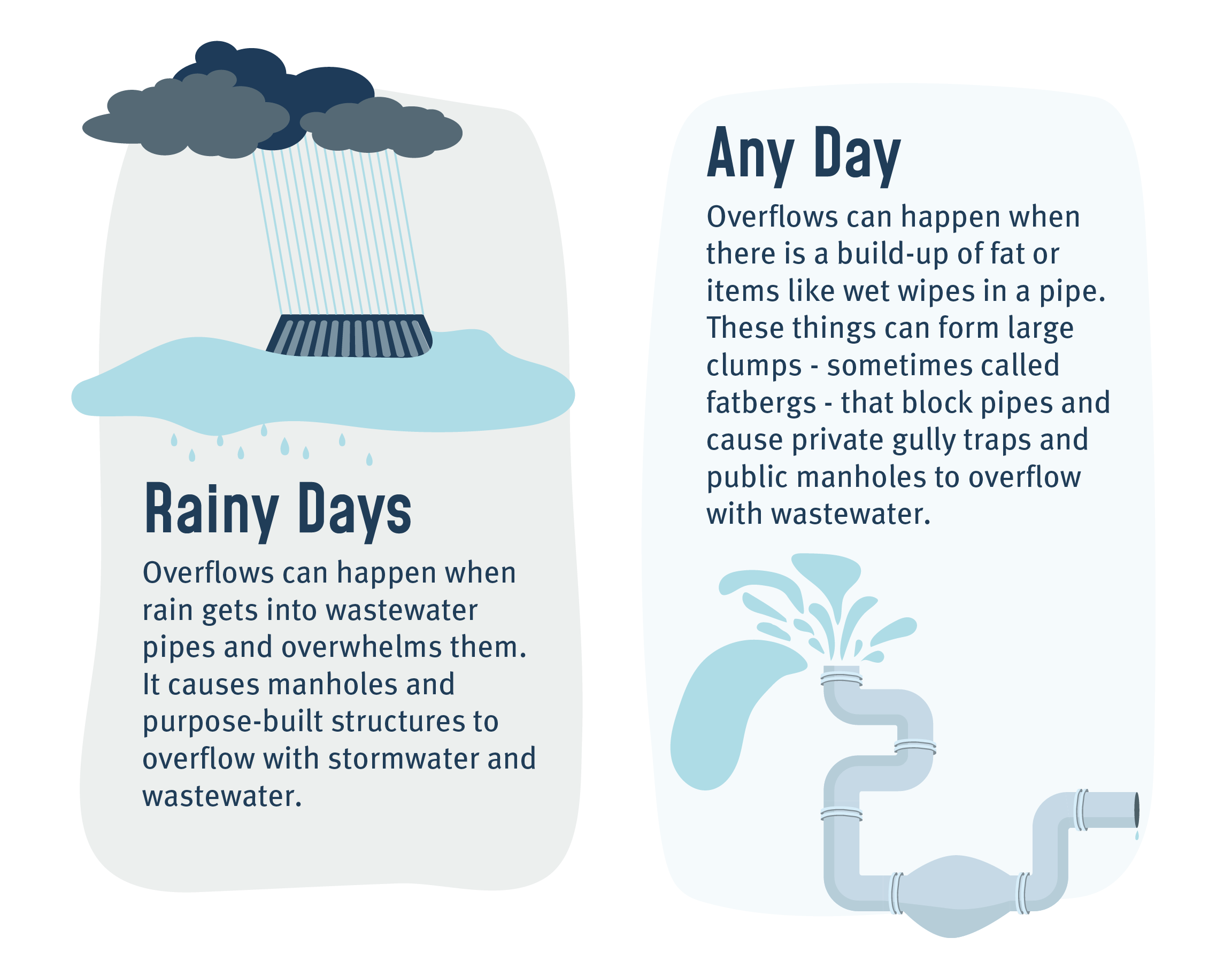 How to stop rain from getting into the wastewater network
Check your gully traps are clear and in good repair
Wastewater from your kitchen, bathroom, and laundry exits your home through a gully trap, which is a basin in the ground. All houses have at least one gully trap against an outside wall.  
Gully traps protect your family's health by ensuring that, in the event of a blockage, wastewater will overflow from the gully trap and not inside your home. They also prevent foul air escaping from your wastewater pipes.  
It is important to ensure your gully trap is raised off the ground and covered by a grate to prevent stormwater and other foreign matter entering the wastewater network. 
Gully traps sometimes need to be cleaned out, re-sealed, or replaced.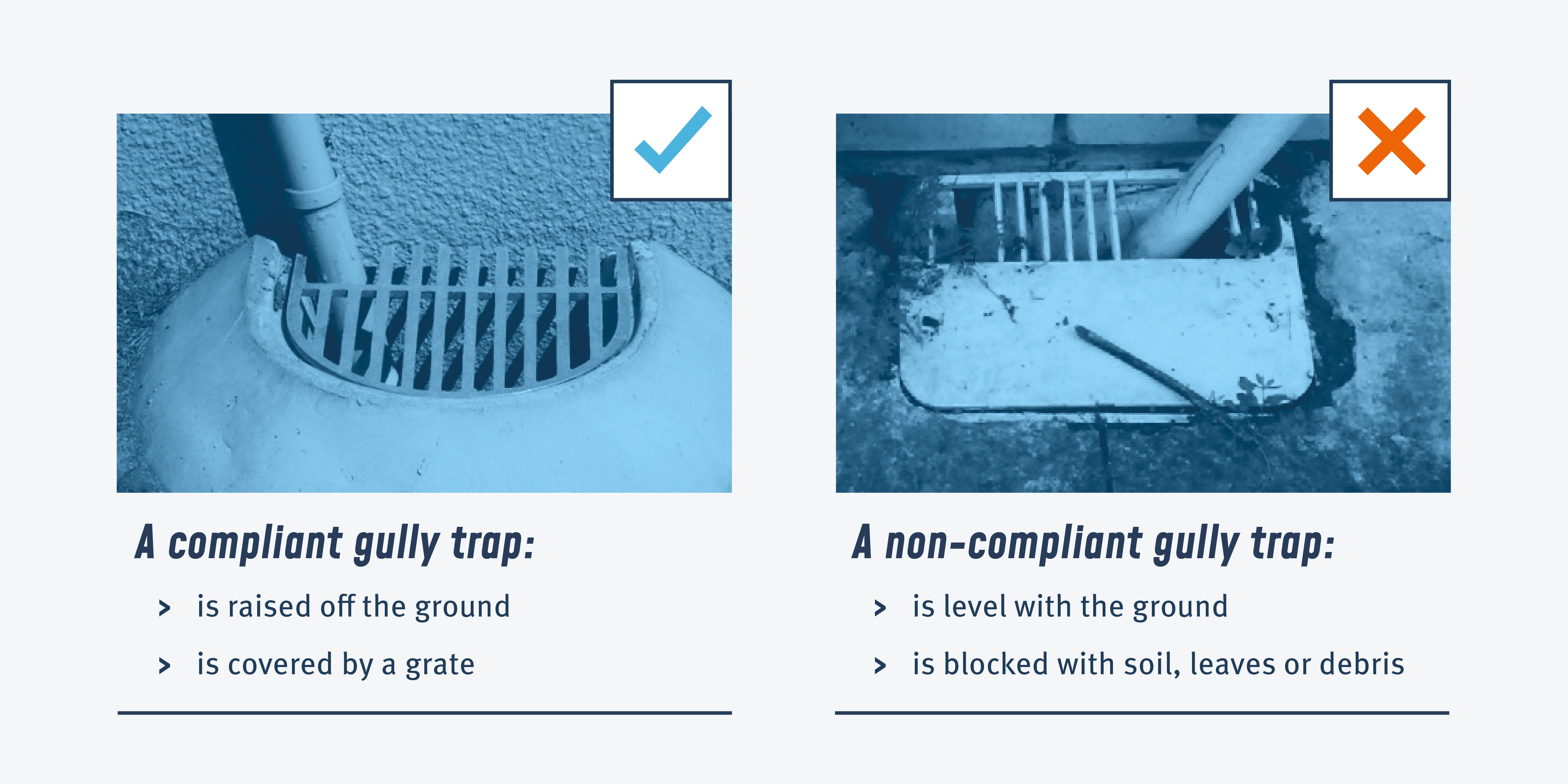 Check your downpipes are correctly installed 
A downpipe is a pipe that collects rain (stormwater) off your roof. This should connect to the stormwater system only to comply with our city's regulations. 
First check that your downpipes are separate from your gully traps. If this is the case, inspect your downpipe to ensure it connects securely to the stormwater system and has no damage, cracks, or leaks. 
A non-compliant downpipe vastly increases the risk of an overflow during wet weather. A high volume of rain will overwhelm the wastewater network, causing stormwater and diluted wastewater to spill out of manholes, onto public and private land, and into waterways.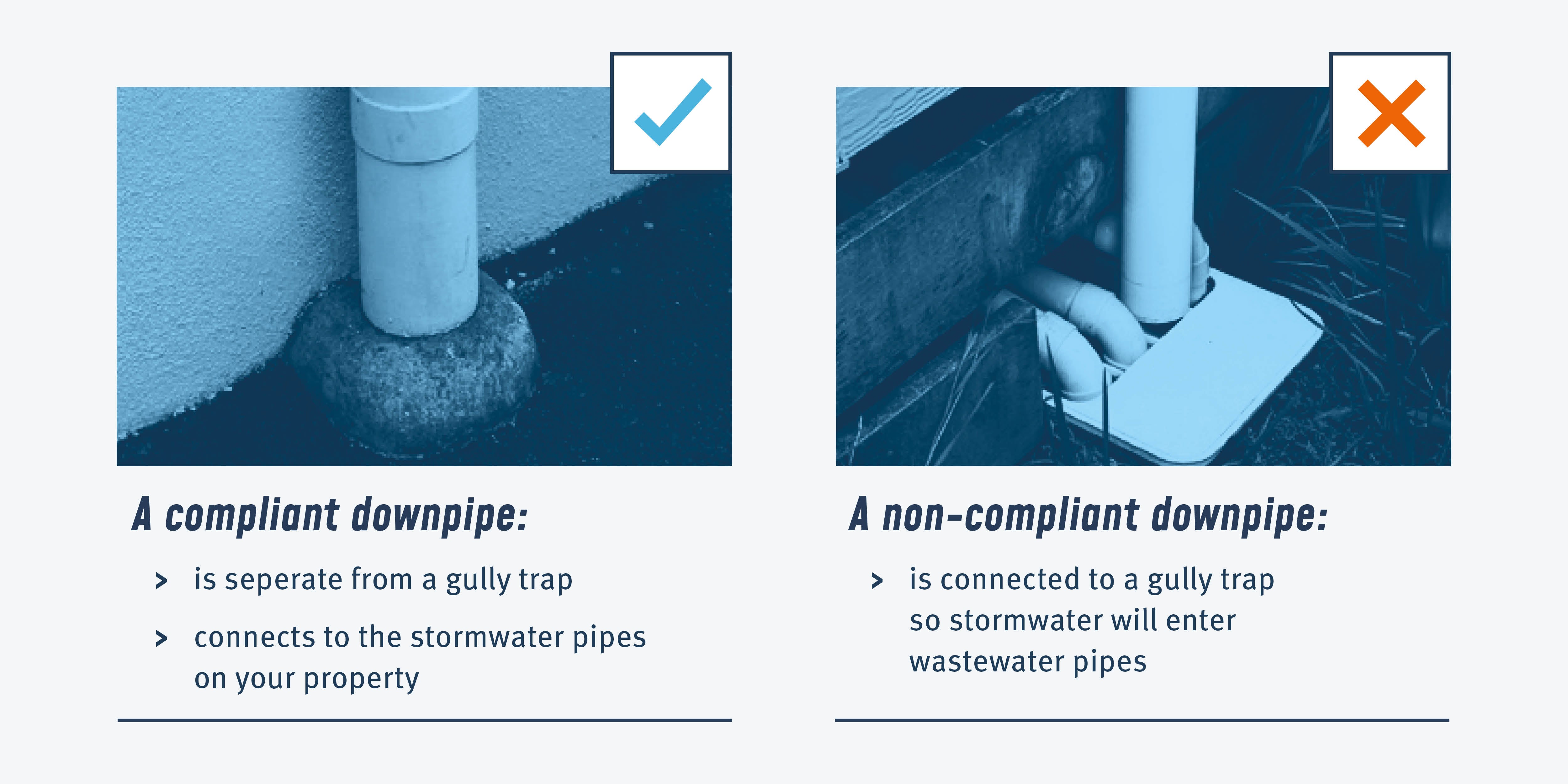 How to fix non-compliant downpipes and gully traps 
If your downpipes or gully traps are non-compliant or damaged, you need to get in touch with a qualified plumber. Many plumbers specialise in drainage and can lend their expert advice on your best course of action. The quicker you act to remedy your downpipes and gully traps the less likely you are to cause an overflow.   
Keeping your pipes flowing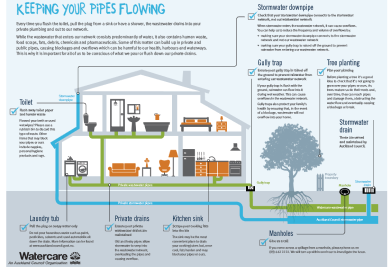 PDF
Keeping your pipes flowing
Find out how you can do your bit to reduce overflows in your backyard and community.
Download
Check out the great water wise initiatives and information available to homeowners, landlords and renters